Road Trip
We took a little trip to Bethlehem, PA, recently to visit Matt and his lovely wife, Mel. Of course, Matt was working during the day; so, I suggested a day-trip to Gettysburg. The official website says that every American should make a pilgrimage to Gettysburg to see the site of the decisive Civil War battle, the cemetery, and all things related to Lincoln's Gettysburg Address. If an American wants to see all things related to Lincoln's Gettysburg Address, however, a trip to Cleveland is necessary because just to the east of the War Memorial Fountain is a statue of Abe Lincoln with the Gettysburg Address inscribed in the granite base: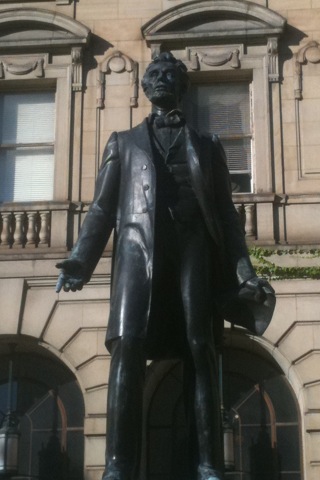 Also on the official Gettysburg website are photographs of graves and the visitors' center and other stuff, like the types of tours that are conducted, movies that are shown, exhibits that are available for viewing, and, of course, the cost of all of the adventures a true American can undertake in the quest for knowledge of the history of the Battle of Gettysburg and its participants.
We embarked on the two-hour-and-fifteen-minute drive at about 10 in the morning, the temperature heading into the lower 90's in the Lehigh Valley. There would be some relief during the ride in the air conditioned car in anticipation of the humid, lower 90's expected in Gettysburg, which, on the map, appeared to be in the middle of nowhere in southern Pennsylvania.
After driving for nearly an hour -- everybody on the Eastern seaboard apparently had the same idea -- in heavy traffic on Rte. 22 or I-81, I saw the name on a green highway sign. And rather than gravesides, I thought we would be better served by heading to: HERSHEY 32, the destination to which every American should make a pilgrimage at least once in a lifetime.
Weighing the competing considerations, that is, Civil War history, old grave sites, and tourists vs. Chocolate bar history, rich, chocolate-y goodness, and tourists, the choice was obvious.
Posted by Bill at July 14, 2010 06:39 PM