FAST FOOD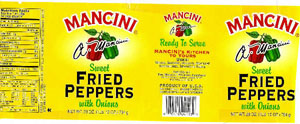 you've seen the jars and cans, i'm sure. you've walked right past them, having no idea how to use them. they are my very favorite shortcut ingredient "cheats." i ALWAYS have at least one can and one jar in my pantry. they are cans of fried peppers and onions (packed in oil) and jars of roasted red peppers (packed in either olive oil or brine). i have a bad habit of letting fresh produce go bad because i cook "on the fly." what strikes my fancy in the moment. i did a lot more meal planning – and cooking what i planned and shopped for – when the boys were all home. it's different now with just me, bill, and jax. jax rarely wants to sit and eat with us, so bill and i usually end up cooking what we feel feel like that night. pantry items come in real handy. not to mention that i love the time-saving factor.
the cans of fried peppers and onions are used in recipes that call for just that – fried peppers and onions. no chopping, peeling, frying. just add what you need to your ground beef (sloppy joes or meat loaf) or to make chinese pepper steak. the quality is always very good. i use the roasted red peppers (after rinsing and chopping if necessary) whenever a recipe calls for peppers, red OR green, because i love the different flavor that a roasted red pepper adds to your dish. these come in large pepper pieces (there's usually a whole pepper stuffed in that jar, too) that you rinse and chop as needed. roasted red peppers typically are sweeter and smokier than a sauteed green pepper. no roasting, peeling, seeding.
today i made one of our favorites – a quick potato corn chowder. my recipe that follows calls for the roasted red peppers – i've never used fresh peppers in this soup. and bill's cajun seasoning mix. which we use a lot. you can use emeril's or paul prudhomme's. i'm sure they'll suffice. this chowder takes -- at the most – 45 minutes from start to finish. it makes a batch big enough for me to have one fresh meal and two more frozen meals. when i want it REALLY special, i'll add a large can of lump crab meat. i served it with corn bread.
Potato Corn Chowder

2 tablespoon vegetable oil or olive oil
4 tablespoons butter
8-10 red potatoes, diced
1 large yellow onion, chopped
TWO ROASTED RED PEPPER, DICED
2 bay leaf, fresh or dried
Salt and freshly ground black pepper
2 teaspoon Bill's cajun seasoning
4 tablespoons all-purpose flour
4 cups chicken stock
1 quart whole milk
1 cup half-n-half
1 small bag frozen corn
Heat a deep pot over moderate heat. Add oil and butter. As you chop your veggies, add them to the pot: potatoes, onion, and red bell pepper. Add bay leaves to the pot. Season vegetables with salt and pepper and CAJUN SEASONING. Saute veggies 5 minutes, then sprinkle in flour. Cook flour 2 minutes, stirring constantly. Stir in broth and combine. Stir in milk and combine. Bring soup up to a boil. Add corn (and crab meat, if you want) and simmer soup 25 minutes. Add more seasonings, if necessary. Remove bay leaves.
Posted by Stacey at April 4, 2004 07:42 PM