April 20, 2007
November 02, 2006
CAKE: A HAPPY HOME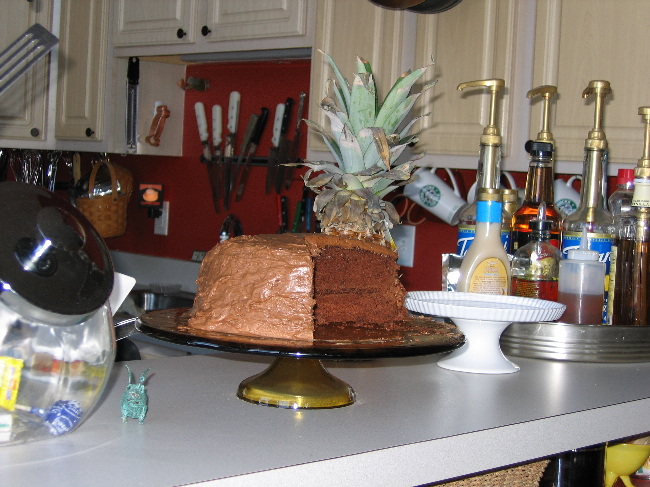 i've written before (on our regular site) about why i love to cook. i'm doing it again. indulge me. as if you had a choice.
i love to cook. i have to cook. i don't feel productive or that i'm doing my job unless i cook. my life is all about home and family -- it's who i am. if you read my stuff on the other page, you won't be reading too much into this.
i grew up in an alcoholic home where my mom cooked very little, but what she did cook was good. when she cooked, it was because she was feeling good. those were the times that our house felt almost normal, like a home. home in the 50's and 60's meant that the family ate at least 2 home-cooked meals a day. mom baked. mom was there for you. i knew that when i grew up (to this 6-year-old girl, grown up meant 18), that that's what i'd do/be. and so i have this need to cook.
so i cook. and i bake. a lot. at least 2 or 3 times/week. when the house was filled with boys, the baked goods disappeared quickly. now that we're in our downtown loft, there are friends and security guards who are the beneficiaries of the goodies.
my mom bought me my first cookbook my last year in high school; in fact i don't remember any other cookbook in the house at all. it was "betty crocker's cookbook," eleventh printing, 1972. i love it. it's falling apart; the spine is entirely gone. the stitching barely holds it together. this book sucks me right back into my past. i made my first peanut butter cookies (these may have been the first cookies baked in our house) from this book that first year. cookies that made me a legend in my own mind because i improvised and added a dash of cinnamon to the recipe that i believed made the cookies. i remember what i was wearing when i baked the first batch: gold wide wale hip hugger, bell-bottom pants with a white button-down oxford shirt (perma press, of course). [this remembering what i wore on certain days or times is a weird thing i have -- drives bill nuts.]
i made home-made cinnamon rolls (YEAST!) from the recipe in this cookbook. my grandfather stepped right in the pan of rising rolls because i placed the pan on the floor in front of the warm air blowing from the front grate of the refrigerator. nobody in this house had ever used yeast and so i had no idea where to place the pan. some of the rolls were ok, but to this day, i rarely bake with yeast unless it's in a breadmaker.
that same summer, i baked a special dinner for bill: chicken fricassee with chive dumplings. i cannot tell you how it irks me that he doesn't remember this. i remember him coming into the house, filthy from his summer job cleaning barrels at the barrel yard (duh. where else would you work cleaning barrels?!) and him lifting the lid of my rival electric frying pan to see what i'd made. the electric frying pan was another gift to me from my mom. it lived for maybe 10 years -- i'm on my third incarnation -- can't live without one.
i do go on, don't i?
in short (heh), i've cooked/baked many, many things from this cookbook. a very old friend of ours recently reminded me of a cake i made first in 1974. it's called "best chocolate cake," and it is that. i've made the cake a number of times since that first time -- it was bill's favorite for a long time. but i stopped making it for his birthday after his 32nd birthday. matt was 4, jax was less than a month old; and it wasn't easy getting this cake made. it was a labor of love. i presented it to him proudly thinking he would be impressed and appreciative. he said, "i don't want any -- i'm on a diet." i dumped the cake out into the sink, and haven't made it again until yesterday. he learned his lesson and was much more appreciative.
i think you'll like it, too.
BETTY CROCKER'S COOKBOOK BEST CHOCOLATE CAKE WITH CHOCOLATE BUTTER FROSTING
2 c flour
2 c sugar
1 t baking soda
1 t salt
1/2 t baking powder
3/4 c water
3/4 c buttermilk
1/2 c shortening
2 eggs
1 t vanilla
4 oz. melted, unsweetened chocolate, cooled
measure all ingredients into large mixing bowl. blend 1/2 minute low speed, scraping bowl, blah, blah, blah. beat 3 minutes high speed. pour into pan(s). bake oblong (13x9x2) 40 to 45 minutes, layers (two 9-inch or three 8-inch) 30 to 35 minutes or until toothpick blah. blah, blah. cool. frost with
frosting:
1/3 cup softened butter
2 oz. melted, unsweetened chocolate, cooled
2 c powdered sugar
1 1/2 t vanilla
1 or 2 T milk
mix thoroughly butter and cooled chocolate. blend in powdered sugar.stir in vanilla and 1T milk. beat on high until fluffy, adding additional T of milk if necessary. frost cake(s).
***wouldn't you know it -- bill REMEMBERS the HIP HUGGERS and the dumping of the cake!
July 28, 2006
July 02, 2006