THE REAL ANNA BANANA
oops, sorry! there was a bad typo in original recipe posted here. i fixed it. mea culpa. if you made this the wrong way, leave a comment, and i'll make it right by you.
i guess i could have just waited to say anna banana. sorry again.
i make the best banana cake in the world. no kidding. this started with my friend, kathy, who gave me her recipe for banana cake. i've changed it over and over again until it's my recipe, so much so that kathy is waiting for me to make and bring her one of these. this cake is really not too unhealthy. i haven't mastered the art of splenda baking; if you use splenda and have success, please let me know. i'd LOVE to feel totally guilt free when i make this and EAT it.
1/2 c plain yogurt
1/4 c room-temperature butter
2 c brown sugar
2 eggs
1 t vanilla
1 c (3 whole)mashed ripe bananas
2 c flour
1 1/2 t baking soda
1 t baking powder
1/4 t salt
cream yogurt, butter, and brown sugar. beat in eggs, vanilla and banana. beat well. mix flour, baking soda, baking powder, and salt . add to mixture. mix until blended. pour into 2 greased and floured 9-inch baking pans. bake at 350F for 35 minutes. cool in pans for 5 minutes on wire rack. make frosting:
1/4 c room-temperature butter
1 mashed banana
1/2 t vanilla
2 c powdered sugar
1 to 2 T milk
this is kind of a thin frosting. after the 5-minute cooling period, frost the top of one layer. put second layer on top of this. spread the frosting as best you can all around sides and top of cake. after frosting cools and frosting sets up, scrape off excess. it will pretty much look like a glaze. it's very sweet, it might kill you to discard the excess; but it'll kill you for sure if you eat it.
have i steered you wrong? ever?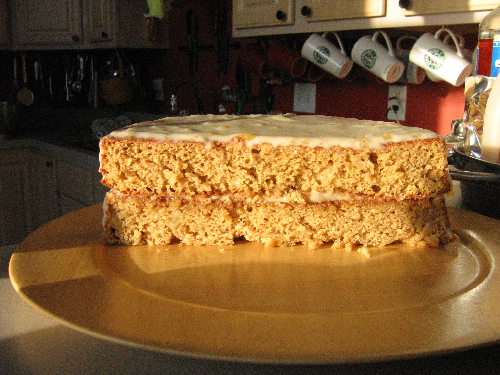 Posted by Stacey at April 20, 2007 09:01 PM