THE STUFF OF WHICH LEGENDS ARE BORN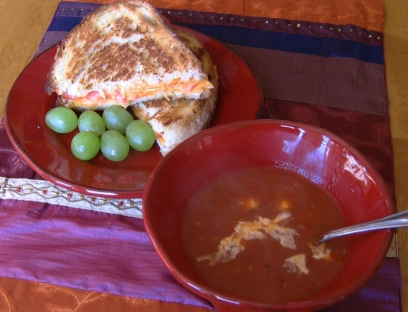 there's a legend in my family that my little sister, pj, between the ages of 5 and 17 NEVER ordered anything in a restaurant except a grilled-cheese sandwich and tomato soup. i cannot verify this, but neither can i deny. i have no memory of her ordering anything other than this menu item. these were the days that this was a staple on every restaurant menu. at least in the restaurants my family frequented.
the cheese sandwich was invariably the type made with a wonder-bread type white bread and single slices of american cheese. there was simply no other kind of grilled cheese sandwich. and the tomato soup? of course it was campbell's or a campbell's clone. i must admit that this was one of my favorite choices, too. of COURSE it was. it was one of yours, too, wasn't it? it was WONDERFUL. still is.
yet, we grow. we mature.
and, yet, we STILL sometimes need the comfort foods of our childhood.
the sandwich:
bill makes THE best grilled cheese sandwich. THE best. it's not rocket science. yet, i have NEVER had a better grilled-cheese sandwich. never. never ever.
everybody has perfected their own version. bill's starts with our favorite italian bread from breadsmith (if you don't know breadsmith, look it up. try it. they're all over. you may have one around you and don't know it.) he cuts it pretty thick (about half an inch), slathers one side with butter, and places lots of hand-cut-from-the-block cheddar cheese and tomato slices (the tomato is layered between the cheddar cheese) on the unbuttered side into a preheated (the preheated pan is A MUST) frying pan (buttered side down. duh). places the other buttered-on-one-side piece of bread (buttered side up. duh), and fries until crispy brown on the outside. flip it to grill the other side. duh. the result is always really nice and crispy on the outside, soft and gooey on the inside. patience and vigilance will reward you.
the soup:
i LOVE campbell's tomato soup. but i also LOVE a more rustic country italian tomato soup. here's my quick-cheat-hybrid recipe:
1 medium onion, chopped
1 t chopped garlic
1/4 cup dry white wine
2 cans campbell's tomato soup
1 can chopped tomatoes (14.5 oz.)
2 cups chicken stock (you can use veggie stock if'n you want)
salt, pepper, thyme, lawry's seasoned salt, dried mustard (about 1/2t of each)
caramelize the onion in 2T oil and 2T butter. add the garlic, saute for about a minute. add the wine to onions and garlic. reduce for a minute or two. add the cans of soup, the tomatoes, the stock, and the seasonings. simmer for about 15 minutes. drizzle a little half-n-half into bowl of soup if'n you want. i do.
delicious!
Posted by Stacey at February 19, 2006 04:03 PM