CAKE IN THE CITY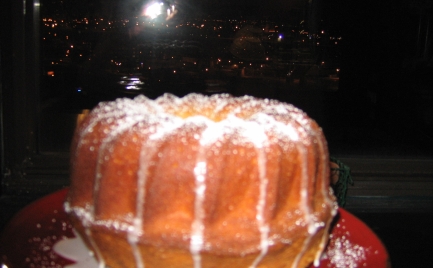 first entry from new city loft kitchen. my favorite pound cake recipe. cuz i always have the ingedients in my house, and it's sooooo easy. and versatile. i made the plain pound cake tonight but you can make a marble version in just a few more minutes. or a lemon pound cake by using lemon extract and a teaspoon of lemon zest instead of vanilla extract. it's not a real sweet pound cake, but we love it. you can sweeten it up if you want. go for it, dude.
the picture above -- crappy as it is -- shows the city lights to the west from our loft, as well as the flash from my camera. i'm such a crappy digital photographer.
pound cake
2 c sugar
1 c vegetable oil
2 t vanilla
5 eggs
3 c all-purpose flour with 2 t baking powder and 1/4 t salt
1 cup milk
beat sugar, oil, and vanilla well. add eggs, one at a time, until thick and lemon-colored. add flour mixture 1/3 at a time, alternating with 1/3 of the milk. you know what i mean. bake at 350 degrees for 1 to 1 1/2 hours in prepared bundt pan. you know how to check if it's done. glaze or sprinkle with powdered sugar.
marble pound cake
make batter as above. separate into two bowls. stir in 3 oz. unsweetened chocolate into one of the bowls.
pour 1/3 plain batter into a prepared bundt pan. top with 1/3 of the chocolate batter. layer remaining batter. bake at 350 for 1 to 1 1/2 hours.
Posted by Stacey at January 25, 2006 09:16 PM