SMASH FRIED POTATOES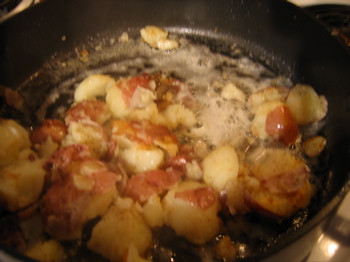 for my entire adult cooking life, my go-to recipe for potatoes has been my world-famous fried potatoes. i'll not post that here. i doubt i'll make them much again now that i figured this method out. NO MORE SLICING POTATOES! freedom!
way too easy this is. adapt it with whatever herbs and/or spices you like. fry them with butter, vegetable oil, olive oil, or oil AND butter. yesterday, i fried them in olive oil, chopped garlic, and chopped fresh parsley. today i fried them in only butter with salt and pepper. do what YOU like. you cannot mess these up.
red / new potatoes (however many you need)
shortening (butter and/or oil)
salt and pepper and whatever else you want
place your potatoes in a frying pan. add enough water to come to just over half the height of the potatoes. bring water to boil, cover pan. shake the pan every once in a while to move the potatoes around. make sure water does not boil off. cook potatoes until fork tender, making sure they're cooked through entirely.
drain off water. add butter or oil to dry pan. while butter or oil is heating over medium high heat, place the potatoes one by one in a kitchen towel, and SMASH using the heel of your hand. when oil is ready, place smashed potatoes back in pan and fry them up. i like it best when the smashed potato stays in one piece, but it really doesn't matter. just make sure you let the potatoes develop a nice crust.
no peeling. no slicing. what could be bad about these? nothing. that's what.
Posted by Stacey at
09:49 PM
|
Comments (0)
3! 3! 3 RECIPES IN ONE! SUMMER STROGANOFF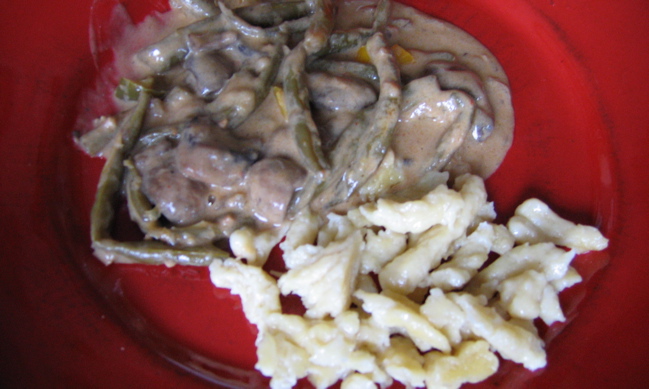 some days you just have to cook. you get a hankering for some home-cooked vittles, and nothing else will do.
i felt like something new today, and the green beans and mushrooms i picked up at the west side market were calling me. i had picked up the beans with a recipe i recently saw in recipezaar in mind. click on the link for the recipe. i doubled the recipe, chopped instead of sliced the onions, added salt and pepper, and steamed the beans instead of boiling them. delish as is. a perfect summer side dish.
when i was cleaning out my desk area last week, i found another recipe that i had printed out from somewhere. i stuck it up on my bulletin board and thought i'd try it sometime soon. i looked it over this morning and decided on some modifications. here's my variation:
mushroom and green bean stroganoff
1 lb fresh mushrooms, quartered
2T olive oil
2T butter
3T ketchup
3c chicken stock
2 large green bell pepper, seeded and chopped (i ALWAYS cheat and use the frozen trader joe's chopped pepper mix -- i used about 1 1/2 cups)
3T flour
1T paprika
the double batch of roasted beans, along with the onions and garlic and pan juices
salt and pepper
1/2 c sour cream
brown the mushrooms in oil and butter over medium high head in dutch oven. remove to a bowl with a slotted spoon. add peppers to pot, saute until soft. add entire contents of roasted green beans pan. mix and heat through. add flour and paprika to veggies, cook for a couple more minutes. add stock and ketchup. turn heat on stove to low, and simmer for about an hour. add sour cream at end, mixing thoroughly to create a wonderful, creamy sauce.
notice i didn't tell you when to add salt and pepper. i always season at each step. do it however you do it. use as much or as little as you like.
i served this with another recipezaar recipe -- spaetzle. way too easy. try it.
Posted by Stacey at
08:39 PM
|
Comments (0)