LEMON BARS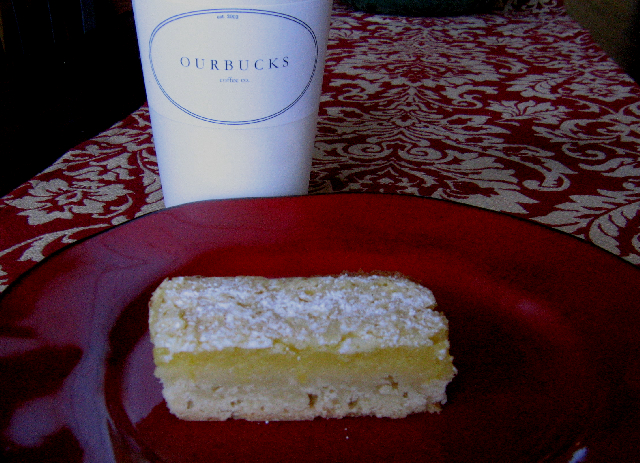 yum. i made these late yesterday afternoon. despite the fact that they are very rich and lemony, this is all that's left. i know that the crust looks a little thick, you'll be glad because it's so good. i've made a lot of lemon bars in my life, and, this is the very best recipe i've found. stop making your lemon curd over a double boiler -- it's really not necessary. this recipe is almost as easy as the betty crocker box lemon bars (which are pretty good, btw. just not nearly as good as these).
notice the "ourbucks" coffee cup in the background. if you're a long-time reader at the nbl, you'll know what that is. it's our little private coffee label. a joke.
lemon bars (recipe found at recipezaar)
crust:
2 c all-purpose flour
1/2 c powdered sugar
1 c butter, chilled and cut into pieces
curd topping:
4 large eggs
1 1/2 c sugar
1/4 c flour
3 lemons, juiced
2 lemons worth of zest
1 t baking powder
1/2 t salt
powdered sugar for dusting
1. crust: stir together flour and sugar. cut butter into mixture until crumbly. pat into bottom of buttered 9" x 13" baking pan. bake in 350F degree oven for 15 to 20 minutes, until very lightly browned.
2. meanwhile, prepare topping: beat eggs slightly. stir together sugar and flour in separate bowl. add to eggs. beat well. add lemon juice, zest, baking powder, salt. beat until smooth.
3.. pour over hot crust. return to oven. bake for 25-30 minutes longer, or until JUST set.
4. sprinkle with powdered sugar while hot. let cool (it will set up a lot more) and cut with a sharp knife into SMALL bars.
Posted by Stacey at
10:58 AM
|
Comments (0)
MY GO-TO SUMMER TREAT
this was originally posted on the "nbl" back in the summer of 2003. made it again this morning. it's worth reposting here.
ok people. this is a joke. you're supposed to laugh. i'm not seriously thinking i'm martha stewart. i just thought it would be funny to post a staged picture of the peach crumble along with the recipe. it's funny cuz we're really such a weird family. k? got it? the whole time i'm taking the picture, jax is sitting in his beater car smoking a ciggy talking to his a.a. sponsor, and bill's swearing at the pool pump cuz it got messed up in the "big blackout." me? i'm wearing pearls and my apron and heels. what? you don't believe me? what?
ok. here's the crumble: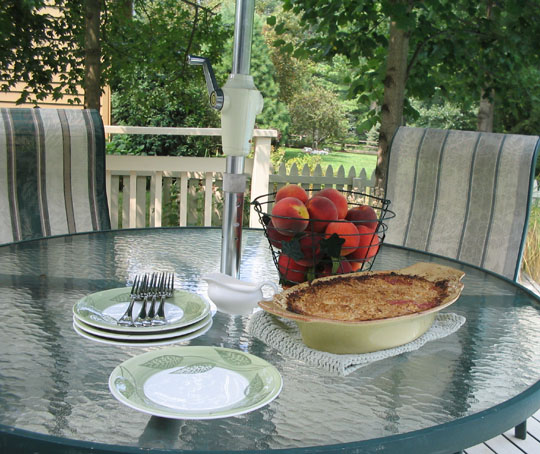 and here's the recipe:

peach crumble (robin benzle of cleveland's wdok radio station: chow time)
6 ripe peaches, sliced, into buttered casserole dish
mix: 1 c flour with 1/2 c brown sugar
cut in: 1 stick (1/2 cup) butter
add in to the butter, flour, sugar mixture: 3/4 c quick cooking oats
pour over top of peaches
dot with pats of butter if you want more butter -- who doesn't?
bake 25 minutes at 375 deg.
top with whipped cream
Posted by Stacey at
11:15 AM
|
Comments (0)