HERSHEY BAR CAKE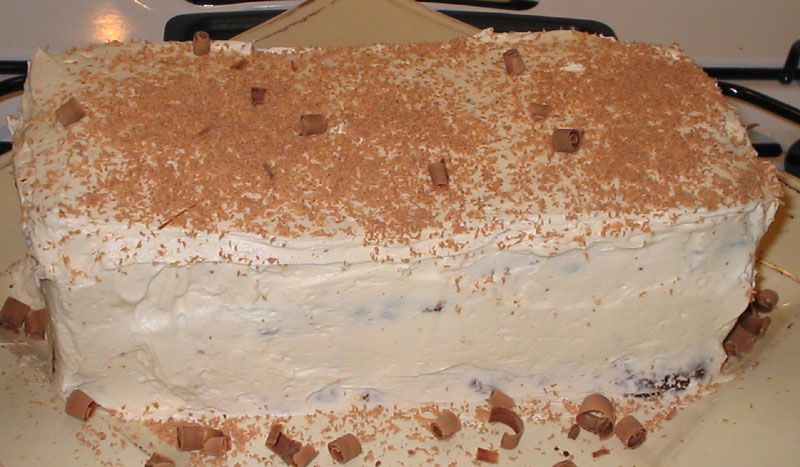 trust me to share with you only the best of the nbl kitchen recipes. this is a cake iíve been making for many years. read the ingredients Ė what could be bad? i usually make this in a bundt cake pan. iíve also made it in my little mini bundlette pan. i like to do it in the loaf pans when i want to make a special smaller cake. cuz then iíve got one for the cake i want to serve right away, and another one for later.
if you donít make this cake, youíre a fool. iíve told you before Ė you should be trusting me. i donít post EVERYTHING i cook Ė only the best stuff. and this is one of the best.
my boss / best friendís birthday is saturday, but sheíll be out of town all week, so iím making this for her today. she is a true chocoholic. you donít have to do what iíve done to the loaf; itís a really nice textured, rich cake. a dusting of powdered sugar on top is enough. but, since, itís a birthday cake, iím cutting it in half and frosting between the layers and on top with an old-fashioned butter cream frosting.
the big bundt cake makes a nice christmas present. the bundlettes are nice to serve as part of a dessert selection. or on their own, warm from the oven with a scoop of nice vanilla ice cream.
if i have leftovers, i throw the pieces in the freezer to use as the cake ingredient in a chocolate trifle.
1 cup (1/2 pound Ė 2 sticks) unsalted butter
16 Ė 18 oz. hershey bars
4 eggs
2 cups sugar
1 cup buttermilk
2 Ĺ cups flour
Ĺ t baking soda
16 oz. (2 cups) hershey syrup
2 teaspoons vanilla
melt the butter in a small pan with the hershey bars over low heat. mix everything else up together, blend well (you donít need a mixer if you donít want to use one). add chocolate and butter to this. GREASE AND FLOUR YOUR PANS! trust me on that one.
one big bundt cake Ė 350 degrees for 1 hour 15 minutes to 1 hour 30 minutes.
two loaf pans Ė 350 degrees for 1 hour to one hour 15 minutes.
bundtlettes Ė 360 degrees for 40 to 60 minutes. keep checking!
Posted by Stacey at
09:31 PM
|
Comments (3)