May 21, 2004
Coconut Pralines
Stacey told me that I was a good cook. I said that I really wasn't a good cook, but that I could follow the recipes and that I was mechanically sound. She didn't say anything to argue the point like she was supposed to do, which means that I was right for the first time ever. Man, that felt pretty good.
I made coconut pralines to go along with some other stuff she made for the other three people in Stacey's office a couple of years ago. Her boss, Sue, the sales manager for the eastern half of the U.S., and Jen, a sales coordinator, are class people and sent a note home to me thanking me.
A salesman, Frank, I'll call him, because his name is really Frank, asked Stacey what they were -- the coconut pralines, that is, like he couldn't tell what they were. When she told him, he said, "I hate coconut."
Stacey told him to take them home to his wife and four children. "They won't like them, either," was his answer. Needless to say, I am not enamored of ... Frank.
Be prepared to stir till your arm falls off. It gets hot over the pot, so be careful.
Ingredients you will need:
8 ounces of coconut (about 3 cups)
12 ounce can of evaporated milk
3 cups of granulated sugar
3 tsp. of vanilla extract
1/2 cup of milk
4 Tbs. of butter
Other stuff that is pretty important:
Greased cookie sheets -- 2 will do -- for the pralines
One ungreased cookie sheet to spread coconut on for toasting
Large pot
Candy thermometer
Long-handled metal spoon
Spread half the coconut on an ungreased cookie sheet and toast it in a 350 F oven until golden, stirring every couple minutes. Remove it from the oven and set it aside. You can also turn off the oven.
Pour the regular milk and evaporated milk into the pot and stir in the sugar over high heat. Bring it to a boil, stirring often to dissolve the sugar. When the sugar is dissolved, bring to a boil once again and stir briskly. Reduce the heat to medium and stir constantly until the solution reaches 240 F on the candy thermometer.
Add all the coconut, butter, and the vanilla and stir enthusiastically for about a minute or so, then remove the pot from the heat.
Using a tablespoon, drop heaping spoonfuls of the candy mixture onto the greased cookie sheets. Cool, remove from cookie sheets with a spatula, and store in an airtight container if there are any left over.
Posted by Bill at
12:12 AM
|
Comments (0)
May 10, 2004
CASADA CAKE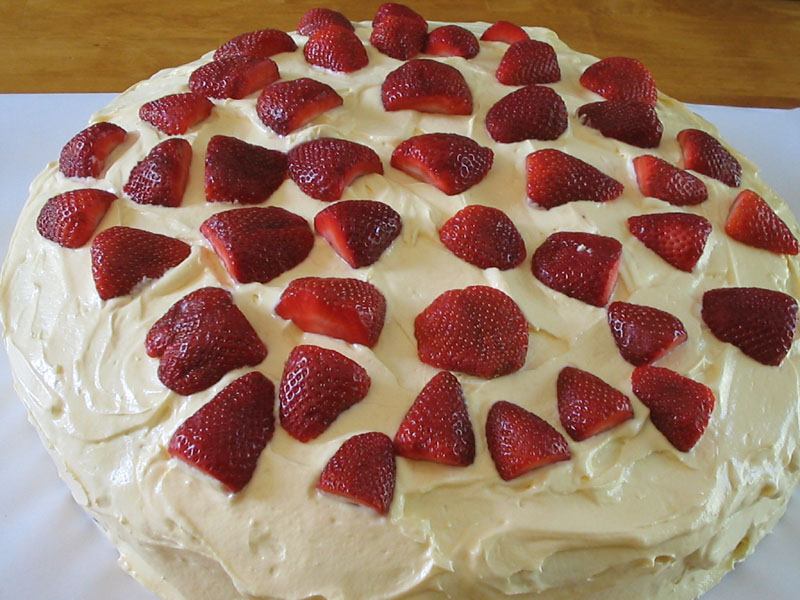 this is one of our favorite and most requested desserts that bill and i have perfected over many years. i mean: it is good. and easy. if you have a special occasion, try it. what? you donít trust me? why are you here if you donít trust me?
iíve talked before about cooking ďcheats.Ē this recipe has two of them. this cake starts with a yellow cake mix. i donít make it from scratch. i use betty crockerís super moist yellow cake mixes. yup. itís one of the few times youíll see me use a cake mix for a cake. but this cake mix is really decent. tasty and moist. i use 4 of them in my 16Ē round cake pan. yup. you heard me. a 16Ē cake pan. 4 full mixes fills the pan enough to bake a cake that can be split into two layers. warning: this is NOT for the meek. itís hard to split a cake this size. itís probably better if you just make two regular size round cakes for the layers (one box each). start small.
so thatís the cake part of the casada cake. the next part is easy, too. the strawberry filling is just strawberries, fresh OR frozen, mashed up to make a nice jam-y like filling. add a couple tablespoons of sugar to the fresh strawberries, along with a little water to help draw the juices come out of the strawbs.
next my FAVORITE cheat. a fake butter-cream-y like cheater frosting. light and custardy at the same time. i start with instant vanilla pudding, add half the milk called for on the box, and then start folding in cool whip until itís the consistency iím looking for. i like a nice light consistency for the actual frosting. you might want a little denser consistency for the filling. itís up to you. either way Ė it will be great.
now put it all together.
on the top of the bottom layer, place a nice thin layer of the frosting. spread some strawbs on top of that. the juicier the better. the juice will soak into the cakes. place the second layer on top. frost the whole cake with the rest of the frosting.
garnish the top of the cake with strawberries. on the cake iíve shown here, bill started out trying to recreate stonehenge. the strawbs were not cooperating so he just started adding more to the cake. if you think you can do it prettier, go for it!
i like this cake better than any casada cake iíve ever had. you will, too.
p.s. iíve added a picture of the french toast casserole to my ďfood of the godsĒ entry. check that out, too.
Posted by Stacey at
06:20 PM
|
Comments (1)
May 04, 2004
Grilled Pineapple with Rum Dulce de Leche
I have this thing about grilled pineapple. Well, to tell you the truth, I have this thing about pineapple -- period. I love pineapple. Now that I've said that, I will say that I don't like pineapples in cakes or cookies or things like that. Pineapple chunks, I guess, is what I love.
At the rehearsal dinner for Matt and Mel, we made grilled pineapple with a warm chocolate sauce that was a hit. We did the chocolate sauce instead of the rum concoction below, which I believe came from Gourmet Magazine. You can make the dulce le leche the day before and keep it covered and refrigerated. The recipe calls for sweetened condensed milk. I always confuse this with "evaporated milk" when I go to the grocery store and invariable have to go back and get condensed milk. I think Borden makes sweetened condensed milk and Carnation the evaporated variety -- or vice-versa. Whatever. Don't make a mistake. They are totally different things. I think.
And it bugs the shit out of me when the recipe calls for 1/2 of a ripe pineapple. Why not use the whole thing? Then it serves 8 -- since you're drizzling the dulce le leche over the pineapple, there should be enough to go around without doubling the recipe.
You need to get together:
2 (14-ounce) cans of sweetened condensed milk
1/3 cup dark rum
1/4 tsp vanilla extract
1/2 ripe pineapple, preferable golden
salt
Vanilla ice cream, if desired
You also need:
9-inch deep dish pie plate or other oven proof deep thing, aluminum foil, and a roasting pan, and a grill
Preheat the oven to 425 F.
Pour the condensed milk into the deep dish pie plate and cover it with foil. Place it in the roasting pan. Add enough water into the roasting pan to reach halfway up the pie plate. Bake the milk until it is thick and golden, about 1 1/2 hours. Carefully remove the roasting pan from the oven, take out the pie plate, and allow it to cool completely. When cool, add the rum and the vanilla, whisk until smooth. Season with salt.
Heat up the grill. Cut the pineapple lengthwise through the leaves into 4 wedges, leaving the leaves intact. Grill the pineapple wedges, cut-side down (yellow side down), until just charred, which will take a couple minutes a side.
Put each wedge on a plate. Put a scoop of ice cream next to the pineapple wedge and drizzle with the dulce de leche.
Posted by Bill at
03:21 PM
|
Comments (3)