Pumpkin Cheesecake
I was ordered to make a pumpkin cheesecake by my daughter-in-law. She fits right in. I modified a cheesecake recipe from Bon Appetit. For the crust, I used a graham cracker crust. Follow the directions on the box of graham cracker crumbs and use a 9-inch springform pan with at least 2 3/4-inch-high sides. I baked the crust before filling it.
Ingredients: 4 8-ounce packages of Philadelphia-Brand cream cheese, room temperature (This is not a plug for Philly cream cheese, but I think it is better than other stuff out there)
1/2 cup granulated sugar
1 1/6 cups packed light brown sugar
14 oz. canned solid pack pumpkin (half a 29 oz. can)
1/8 cup all-purpose flour
4 tablespoons of heavy whipping cream
1 teaspoon ground cinnamon
1 teaspoon ground allspice
4 large eggs
Pumpkin pie spice
You're going to cook this in a preheated 350 F oven.
Using an electric mixer, beat the cream cheese and the sugars in a large bowl until light. Transfer 3/4 cup to a small bowl, cover tightly, and refrigerate for use as the topping.
Add the pumpkin, whipping cream, flour, ground cinnamon, and ground allspice to the mixture in the bowl and beat until well combined. Add eggs one at a time, beating until combined.
Pour the filling into the crust. Bake until the cheesecake puffs up, the top browns, and the center of it is the only part that jiggles when you shake the pan, which will be somewhere between an hour and 15 minutes and an hour and 45 minutes, depending on your oven.
Transfer the cheesecake to a cooling rack for about 10 minutes and then run a knife around the cake pan to loosen the cheesecake. Allow to cool. Cover tightly and refrigerate overnight.
The next morning, bring the remaining cheese and sugar mixture to room temperature and spread it over the top of the cheesecake which you have removed from the springform pan. Dust the top with pumpkin pie spice.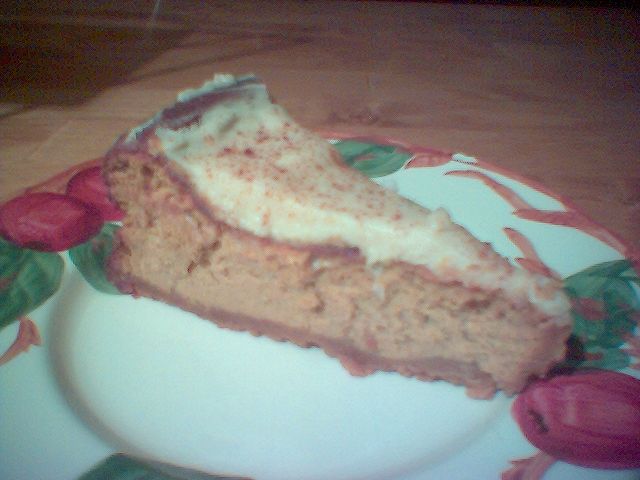 Posted by Bill at
09:55 PM
|
Comments (0)