IT'S WHAT'S FOR BREAKFAST
we have for years started all special days with cinnabons. they used to be soooo much better than they are now. trust me. now you have to pay extra for the fresh rolls – and the not-so-fresh are way overpriced as far as i'm concerned. but when they were good, we'd pick them up the night before a birthday, christmas, any holiday, really. and they were breakfast.
those days are officially over. bill and i have tried over and over again to perfect a perfect cinnamon roll. denied. too many times to count. wtf? it's NOT brain surgery. we would not give up. last night we decided to try yet again. and this time we were going to try the easy route. bill looked in our bread maker cook book and followed the recipe for sticky buns dough. by 9 a.m., we had a batch of sweet dough. ready to roll out and finish up. the cookbook hd a nice "sauce" recipe that i prepared while bill was rolling out the dough, spreading with butter, and sprinkling with a mixture of brown sugar and cinnamon. we rarely follow recipes exactly. they came out great. here's a picture.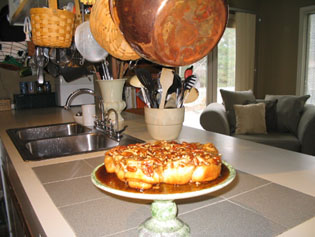 and here's how we'll make them NEXT time. as you can see from the picture, there was TOO MUCH SAUCE. and. i want bigger, fatter buns. so i'll make the bigger batch of dough. and i'll leave off the pecans. just for the next time.
the dough (breadmaker recipe):
1 ¼ c water
3 c white bread flour
2T dry milk
3T sugar
1t salt
3T butter
2t fast rise yeast
follow your breadmaker instructions to create the dough – do not bake!
roll out the dough (on a floured surface) to about 20" x 8".
filling:
1 c brown sugar
2 t cinnamon
½ c softened butter
spread the butter onto the dough. sprinkle the brown sugar/cinnamon mixture evenly on top. roll up the dough, rolling the short side across. cut the roll into 8 even pieces.
sauce:
2 T butter
¼ cup brown sugar
3 T corn syrup
heat the ingredients in a sauce pan until the butter melts and sugar dissolves. pour the syrup into an 8 inch cake pan. place the cinnamon rolls in the cake pan on top of the syrup. one right in the middle. the other 7 evenly spaced round the pan. place a towel over the pan and let the buns rise for an hour until doubled in size. bake the rolls in a 375 degree oven for 20-25 minutes. let cool only a couple minutes. invert onto plate, letting the plate set on top for a couple minutes.
if i wanted cinnabon-like rolls, i'd leave out the sauce and frost the rolls with a cream cheese frosting.
Posted by Stacey at
06:19 PM
|
Comments (5)