THE REAL ANNA BANANA
oops, sorry! there was a bad typo in original recipe posted here. i fixed it. mea culpa. if you made this the wrong way, leave a comment, and i'll make it right by you.
i guess i could have just waited to say anna banana. sorry again.
i make the best banana cake in the world. no kidding. this started with my friend, kathy, who gave me her recipe for banana cake. i've changed it over and over again until it's my recipe, so much so that kathy is waiting for me to make and bring her one of these. this cake is really not too unhealthy. i haven't mastered the art of splenda baking; if you use splenda and have success, please let me know. i'd LOVE to feel totally guilt free when i make this and EAT it.
1/2 c plain yogurt
1/4 c room-temperature butter
2 c brown sugar
2 eggs
1 t vanilla
1 c (3 whole)mashed ripe bananas
2 c flour
1 1/2 t baking soda
1 t baking powder
1/4 t salt
cream yogurt, butter, and brown sugar. beat in eggs, vanilla and banana. beat well. mix flour, baking soda, baking powder, and salt . add to mixture. mix until blended. pour into 2 greased and floured 9-inch baking pans. bake at 350F for 35 minutes. cool in pans for 5 minutes on wire rack. make frosting:
1/4 c room-temperature butter
1 mashed banana
1/2 t vanilla
2 c powdered sugar
1 to 2 T milk
this is kind of a thin frosting. after the 5-minute cooling period, frost the top of one layer. put second layer on top of this. spread the frosting as best you can all around sides and top of cake. after frosting cools and frosting sets up, scrape off excess. it will pretty much look like a glaze. it's very sweet, it might kill you to discard the excess; but it'll kill you for sure if you eat it.
have i steered you wrong? ever?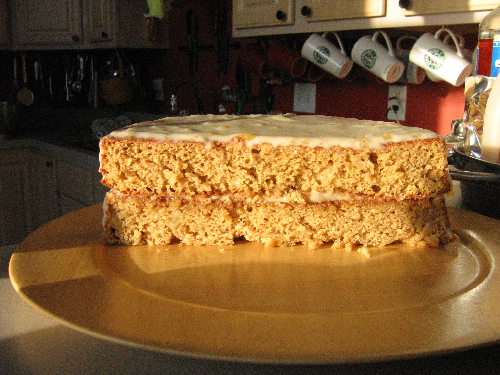 Posted by Stacey at
09:01 PM
|
Comments (1)
ANNA BANANA -- POTATOES ANNA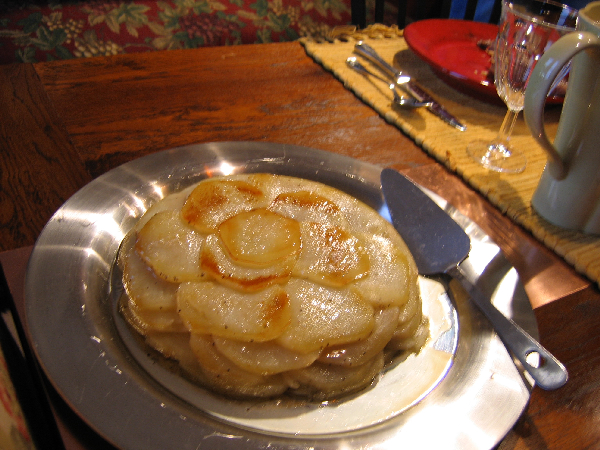 i just wanted to say anna banana. sorry.
potatoes anna
this is a recipe i go to over and over again. it's so simple to make, looks beautiful, and tastes fabulous. what's not to love about these ingredients? it is NOT low fat. i've made these so many times i can't even hazard a guess as to how many times. usually christmas eve or christmas, brunches, anniversary parties, whatever.
potatoes (i usually use idaho bakers -- what i always have on hand)*
salt and pepper
butter (about half a stick at room temperature, the other half melted)
*most cooks don't recommend bakers, but they've always worked for me.
peel as many potatoes as you think you'll need to fill up whatever size pan you're using and the people you'll be feeding. i've done this with as few as 2 potatoes (small saute pan - 6") and as many as 10 in a larger, deeper saute pan (12"). use a pan with an oven-proof handle. just because your pan handle is plastic does NOT mean it's not oven proof. if it's bakelite plastic, it's oven proof. if you're not sure what the handle is made of (what type of plastic), don't use it. slice the potatoes thinly (about 1/8" thick). i use a mandoline or my food processor. you can use your knife if you want -- doesn't bother me if it doesn't bother you.
slather a nice thick layer of room temperature butter all around the inside and bottom of your pan. don't be stingy. place a slice of potato in the very center of the pan and then spiral the slices all the way to the edge of the pan. salt and pepper this layer. drizzle a very small amount of the melted butter on top of this layer. add another layer of potato slices. you won't have to be so careful with the design on any more layers -- it won't show. just make sure the layer is as even as possible.
salt, pepper, drizzle melted butter. continue layering, seasoning and drizzling each layer as you go, until pan is filled, ending with, of course, salt, pepper, and butter.
cover pan tightly with heavy-duty aluminum foil or a double layer of regular foil. place a heavy oven-proof plate on top of the foil over the potatoes. make sure the plate fits inside the lip of the pan so that it can push the potatoes down.
place your pan on the stove burner. turn burner onto medium high. when you start to hear the sizzle, turn on timer for 5 minutes. preheat oven to 400.
place pan (plate and all) into oven. bake 50 minutes.
remove aluminum foil. invert the potatoes onto a plate or platter or cake stand. you'll want to use something with a lip, though, because butter will be oozing.
cut into wedges to serve.
leftovers (if you are lucky enough to have any) can be broken up in a saute pan and crisped up to make quick home fries.
Posted by Stacey at
08:41 PM
|
Comments (0)