FOOD OF THE GODS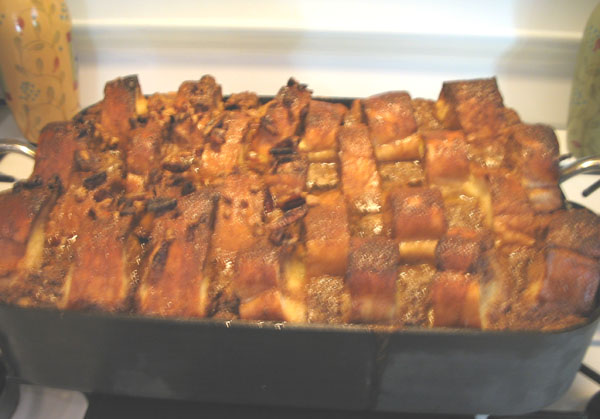 i believe that if you posed the question "what is your idea of perfection food-wise?" a large number of people would say french toast. that's what *i* would say. you all know how to make french toast. plebian wonder bread french toast or the best french bread you can find french toast. they're all great.
i don't like spending time at the stove when we've got company, however, so when paula deen presented this make-ahead casserole on her show, "paula's home cooking," i went right to the web site and printed out the recipe. we cut the recipe in half and made it for bill, matt, mel, and me for sunday breakfast. sorry i didn't take a picture -- it looks and tastes great! the praline topping makes the top crunchy and sweet, the inside is puffy and moist, the bottom sits in its own buttery syrup.
PAULA DEEN'S BAKED FRENCH TOAST CASSEROLE WITH PRALINE TOPPING

1 loaf french bread
8 eggs
2 cups half and half
1 cup milk
2 T sugar
1 t vanilla extract
1/4 t cinnamon
1/8 t nutmeg
dash salt

slice bread into 1-inch slices. arrange slices in generously buttered 9x13 in casserole, in 2 rows, overlapping slices. beat together the rest of the ingredients and pour over bread, making sure all bread is covered evenly, spooning in between the slices. cover with foil and refrigerate overnight.

praline topping:

2 sticks butter, softened
1 c packed brown sugar
1 c chopped pecans (optional)
2 T light corn syrup
1/2 t cinnamon
1/8 t ground nutmeg

blend together well and spread over top of bread (like frosting). bake casserole for 45-60 minutes at 350 degrees until puffed and lightly golden.
Posted by Stacey at April 19, 2004 04:25 PM