ALL-AMERICAN CHEESECAKE
nowadays, cheesecake is kind of an upscale treat. bill's the big cheesecake guy in our family. he's always up for trying out new flavor combinations. white chocolate, key-lime with a macadamia nut crust, oreo, and his old favorite and most requested -- because it is so goooood, chocolate chip. you know, the big round ones made in springform pans. the cheesecake slice you pay a fortune for in a restaurant.
i'm not writing about THOSE cheesecakes. this is about the cheesecake that you FIRST tasted when you were ten years old. the one your aunt or gramma always brings to the 4th of july picnic. my grandma made this cheesecake. my step-mom, patty-ann, made an even better version. this is patty ann's recipe. i don't know if she made it up -- i wouldn't be surprised if she did. it's the first time bill ever met a cheesecake he liked. it was all over for him from then on.
when patty ann gave me the recipe, i thought she was cheating me. the cheesecake she made couldn't be THIS easy. no way. but it is. takes about 10 minutes, not counting baking time.
PATTY ANN'S CHEESECAKE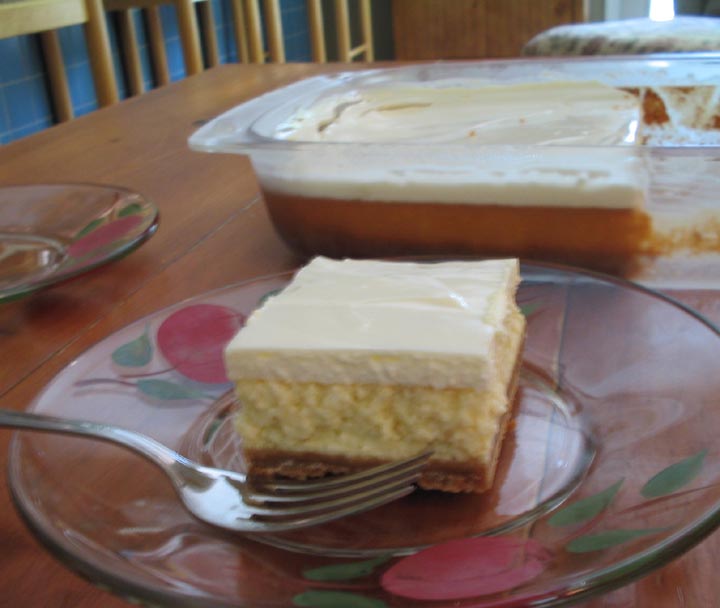 in a 9 x 12 pyrex lasagna pan, prepare a graham cracker crust. i use 1 1/2 packages of graham crackers, crush them, mix in about 1/2 cup of sugar, and a stick of melted butter. pat it in the pan, and bake it at 375 degrees (f) for about ten minutes.
beat together:
3 8 oz. pkgs cream cheese, room temperature
1 cup sugar
until smooth.
add in:
5 large eggs (1 at a time), also room temperature
1 t vanilla extract
pour over prepared crust and bake for 45 minutes at 350 degrees (f).
remove cheesecake from oven, let sit for 5 mins, cooling.
beat together:
16-oz container of sour cream
1/2 cup sugar
pour this over the cheesecake and put it back in the oven for 5 minutes.
chill. some people like to serve this cake with a can of cherry pie filling spread on top. we just eat it plain.
Posted by Stacey at July 5, 2004 02:38 PM